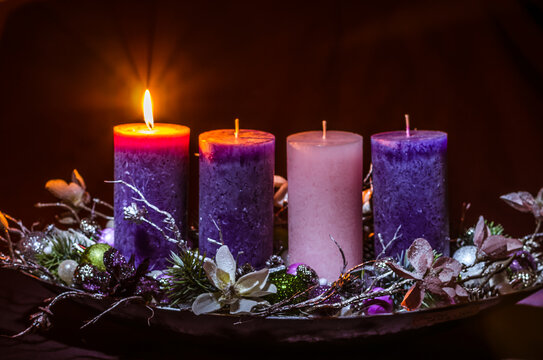 MESSAGE FROM FR JIM:
During this Advent season, I invite you to embark on a faith journey, delving into Sacred Scripture and accompanying Wendy Ingham as she readies herself for reception into the Church at Easter. This expedition of faith will also continue throughout Lent, offering an open invitation for all to join us on a ten-week journey and renewal of faith.

Advent beckons as a sacred season of anticipation and reflection. In its quiet moments, we find ourselves on the threshold of hope, preparing to celebrate the profound significance of Christ's arrival on that first Christmas and pointing us to prepare for his final arrival at the end of time. Advent is not a secular countdown to Christmas but a pilgrimage of the soul in preparation to meet Our Lord & Saviour.
Newsletter – 3 December 2023
This week's newsletter can be viewed here
If you wish to know as soon as the next newsletter is published (and you are on facebook) then please like our facebook page.

Latest Addition To Our Site – 24th September: Trip to Astley Hall
Our party of 23 enjoyed a very informative guided tour of the newly-renovated 16th century Astley Hall – Click here for more information and images of the day
Contributions to Sacred Heart & St Anne
Donations can be made via the collection plate in Church or direct from your bank account, the details of which can be found here

If you pay tax please consider adding gift aid to your contribution which would enable the parish to claim an extra 25% courtesy of the taxman at no cost to yourself. If this is something you would like to consider please contact me here with your phone and email address and I will ask Margaret, our gift aid co-ordinater, to get in touch.
Current gift aid donors can ignore this paragraph as we will pick up the information from their names if they donate online
Past letters from Father Jim concerning coronavirus situation can be read here

Parish Facebook
In order to be able to keep parishioners informed whenever Father Jim makes any communications or when the website is updated with newsletters etc we have created a Parish Facebook page.
If you have a facebook account please visit and like the page so that you will then be automatically notified whenever this website is updated otherwise please visit this page periodically to check for any updates
For those parisioners without a facebook account I have embedded a feed from it at the bottom of this page so everyone will be able to access the information and links posted to it
The Vatican Media Live Video Stream
The Vatican Media Live Video stream can now be viewed on our Pope Francis Daily Message Page
Parish Facebook Feed